Avid Shoots Customer Story at Notable. Featuring Aliya Cycon
Wednesday, October 3, 2018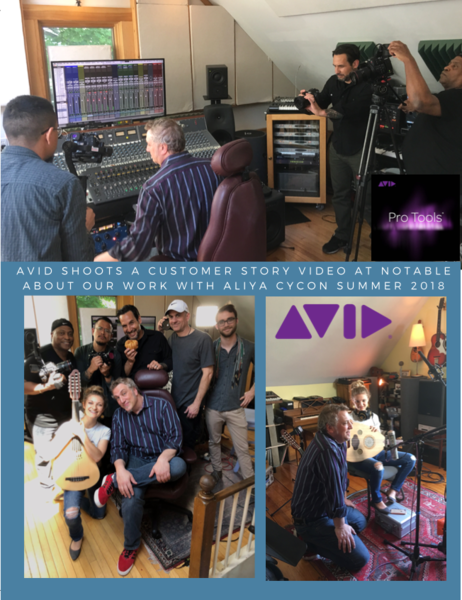 Avid the company that makes our favorite DAW Pro Tools visited us this summer while we were working on tracks with Aliya Cycon. Dan produced Aliya momentous first album this past year at Notable in Watertown and at Futura Production with John Weston's beautiful engineering in Roslindale. "It was the third time John and I got to collaborate at his lovely massive room. I frankly am in awe of that massive space and anytime I have orchestral size projects I check to see if John and that space are available". We had also worked last summer on Susan Cohen's Syrian refugee song and video of social change called Beyond the Borders. Aliya was the music director/arranger and Oud soloist on that song and quickly realized that John and I would be a great team to translate her first album into reality. It was a dream team.
Using Pro Tools was crucial to the success of these larger projects where the work moved back and forth from Notable to Futura and back many times. Some vocals and editing were accomplished on the go in apartments and porches as well as the two larger studios. The tool scaled seamlessly even though the project was recorded and mixed at high-resolution 96K and 24bit.
We are excited to see the video on the Avid website and I will circle back and list the link when it is publically released.