Neve TT Patchbay 96 pt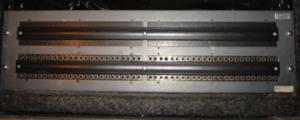 Neve TT Patchbay from ESPN truck with Original English hand tied cabling. Neve made beautiful snakes with their patchbays and board. These are from the late seventies or early Eighties and the bays and cables are still passing audio nicely. The black plastic liner around the cables are a little sticky from plastic breakdown but the cables inside are in good shape considering their age. If you want these bays I can cut the wire or leave it intact.

Call Dan at 617-680-5840 or email at dan@notable.com for more details.