TerraSonde Audio Toolbox ATB-3C Used for sale $1100 best offer
I have less expensive TerraSonde models as well.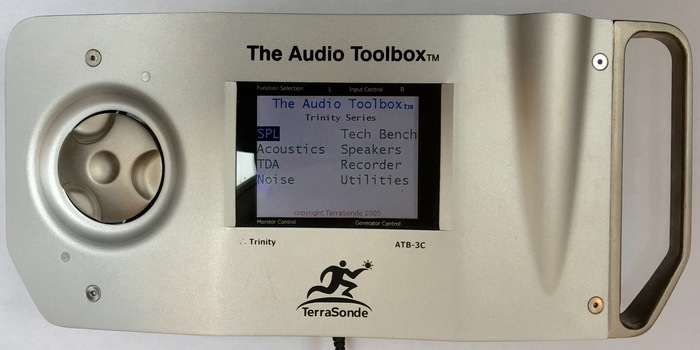 Audio & Acoustic Test Rig
Sencore SP495
The Sencore SoundPro SP495 is the top of the line color version of the latest model in the SoundPro (formerly sold by Terrasonde as the Audio Toolbox 3c) line with improved analog specifications. Building on the concepts pioneered by the ATB1, SP295 (ATB-Plus), and SP395a (ATB3 monochrome) (see below) it adds a high resolution color backlit display and the ability to use phantom powered measurement mics. It contains two Grace Design audiophile grade microphone preamps with 48 volt phantom power, has a USB port that allows the SP495 to be used as a USB preamp for recording on your computer (recording software not included), SPDIF & Toslink digital outputs, and can record wave files to a SD memory card. The SP495 has all the possible firmware modules already loaded, and unlock codes can be purchased to enable any extra modules you might desire. This SP495 not only comes with the standard SoundCore firmware module, but has all of the modules unlocked. It is supplied with a Type 2 phantom powered test microphone, universal AC power supply, carrying case and CD with software and manual. It has balanced and unbalanced input and output connections on XL, 1/4", and RCA connectors, a speaker, headphone output, RS232 serial, SPDIF, Toslink, and USB audio connections.

Call Dan at 617-680-5840 or email at dan@notable.com for more details.