Thursday, October 15, 2009
7pm
Davis Square Somerville, MA
Jim's Big Ego The Ego & The Oracle - Every Thurs in Oct!
247 Elm Street, Davis Square Somerville, MA 02144 USA
phone: (617) 776-6896
Price: $15.00
Purchase tickets online Davis Square, Somerville,
website: www.theegoandtheoracle.com/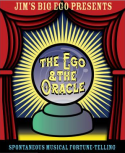 Boston-based band Jim's Big Ego presents an original theatrical production entitled The Ego & The Oracle - an evening of spontaneous musical fortune-telling.

Part improvisational theater, part cabaret, part audience participation, The Ego & The Oracle is a live stage spectacular where "Ouija Board meets iPod Shuffle". Audience members are invited on stage to ask personal questions of The Oracle. They then spin a giant wheel containing songs by Jim's Big Ego. When the wheel stops, the band spontaneously performs the chosen song, which is then interpreted as the answer to the question. The outcome can be humorous or moving, often both at once.

It is a show about synchronicity and it's hard to experience it without getting the sense that the universe is not only in tune, but that it also has a great sense of rhythm.

export this event to my calendar