Omar Offendum at Notable and at Berklee College of Music
Syrian-American Rapper - A man of deep wisdom, humor and integrity. Listen to his poetry
In 2012 and 2015 Dan hosted Omar Offendum's visits to the Berklee campus for classes on Lyric Writing, Production for Songwriters, A class on Middle-East relations, and my production and recording classes. His visit sparked a number of students to think about their own Artist Identities as Songwriters and Performers. Omar and I took a break at a local persian restaurant and shared Baba Ganoush and Hummus with the Arabic Student Union. We worked on his music at Notable Productions and in the Berklee studios. He appeared at Cafe 939, and in the Steve Heck room for an intimate look at some of his writing and Poetry. I got to interview him for the BIRN and talk about his influences and life.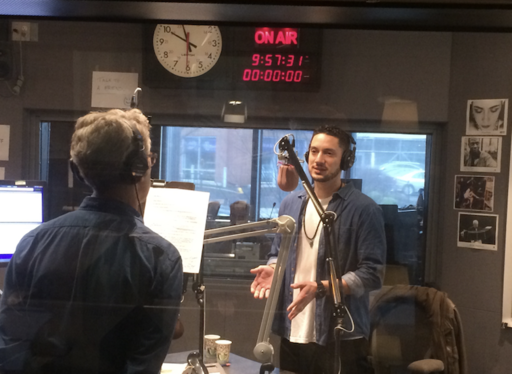 Omar is truly a great man and a unique artist. Check him out on this one take live "Crying Shame" during my Advanced Production for the Songwriter class. He is tearing it up and leaving no student and listener dry-eyed. Check out his improv at the end of this crazy good performance of his song where he lists the tragic Syrian refugee numbers... Years after, this still makes the hairs on the back of my neck stand at attention. It provoked my work on another Syrian Refugee song for relief. That's another story. We were all so lucky to have the cameraman from WGBH and PRI right there to capture the footage to take the class recording and sync it for broadcast. We later went to the WGBH/PRI Studios where my friend Marco Werman interviewed him for "The World". See picture
Syrian-American MC/Beatmaker - born in Saudi Arabia, raised in Washington DC, and now a Californian resident.
https://www.bbc.co.uk/programmes/p0345350
Walid Zairi, Ken Hiatt & Fabio Pirozzolo release their album Talween and a new website! Recorded at Notable!
I could listen to these guys all day long.
Walid Zairi, Ken Hiatt and Fabio Pirozzolo release their album Talween. With it came a beautiful new website!
Recorded at Notable Productions this past year. It was a very organic session. The Oud and Accordion were recorded in the same room with older microphones and stereo room mics to get there vibe and image. After espresso, the gentlemen sat down in front of on the right side an RCA77 in front -and C414eb in the back of the accordion. Facing him was Walid on Oud mic'ed with a KM84-Tabfunkenwerk47 and a stereo Royer for the room. No headphones and No overdubs except some percussion.
They were on fire.... lovely way to spend your Sunday morning.
Congrats Guys!
Notable Productions - the perfect place to record.
Here we are doing a mic shoot out for the Dingo Babies.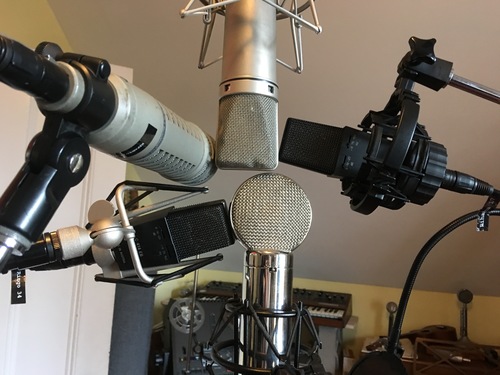 The mic you choose is a conduit for your emotional performance.
It changes the sound and tone of your vocal. Choosing just the right one can make your music leap out of the speakers and seduce your listeners.
We pride ourselves on helping you find just the right microphone from our deep... deep mic closet. :)