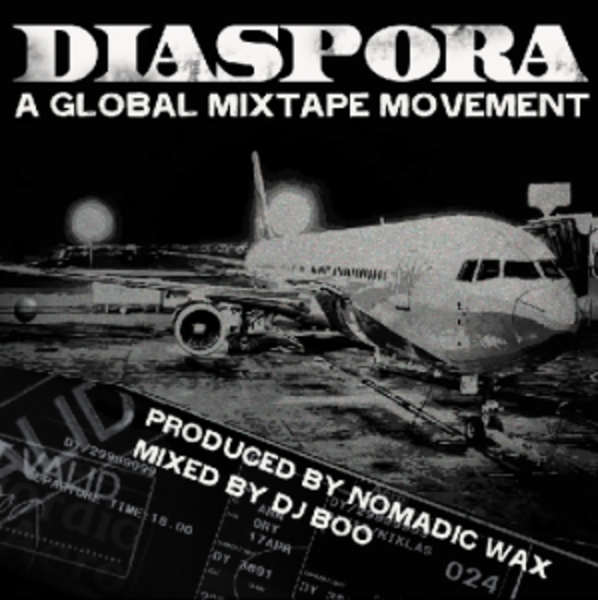 Various Artists
Diaspora Global Mixtape movement
(2010)
album
International record label Nomadic Wax set to release Volume 1 of Diaspora: A Global Mixtape Movement

Nomadic Wax crests new heights with the highly anticipated release of their international mixtape project Diaspora.

Created as en effort to expose the world to global hip-hop and urban culture and facilitate cross cultural exchanges amongst international artists, the Diaspora project features a diverse vein of some of the world's most talented MC's, vocalists, DJ's and producers. The mixtape will showcase urban music from around the globe, but with a twist. Each volume of the series will highlight a different producer from around the world, and a host emcees who donate 16 bars to the project.

Diaspora uses portable digital technology and the internet as its production tools; each artist in the project records and sends their track which is then assembled and mixed by the Nomadic Wax team.

"As a record label we've taken a completely radical approach with this project. While other record labels are trying to find more ways to control their music and artists, we're doing the opposite," said Nomadic Wax Creative Director Magee McIlvaine. "Every artist that contributes a track to the collaboration will retain the same rights as Nomadic Wax to distribute, sell, and disseminate the music. In this way Diaspora is a truly collaborative mixtape and a celebration of fair-trade ideals."

Mixed by Philippino American DJ Boo of the Juggaknots, and produced by Benny Beats of the U.S., Volume 1 features upcoming talent from Africa, Europe, North America, and Latin America, each spitting a conscious 16 bars that showcase where they are from and what they represent.

"Its easy to think of how different we are to others in the world," said DJ Boo. "One thing that I've learned is that, language aside, many of our stories are more similar than different. Nomadic Wax's Diaspora mixtape uses one of the most accessible mediums to capture that – music. Hip-hop music."

About Nomadic Wax – Nomadic Wax is a fair-trade international record label and production company dedicated to producing and promoting global urban music and media.

About the Artists –

Rahzemos (Lebanon/Canada) - Dismantling, conscious rap backed by dense beats and funky rifts, perfect for a party.

Baay Bia (Senegal) – Hip-hop and afro-beat combine to form a sensual, down-to-earth celebration of the griot experience.

Hired Gun (NYC) - Sharp beats and a maze of tangible urban lyrics create a conscious and fresh sound.

Stoney Ashes (Washington, DC) - Experimental, creative hip-hop with compositional integrity and clearly articulated, breathy energy.

S.K.R. crew (Zimbabwe) – Big beats, hydrolic cars, and gutsy rap with theatrical elements and a commercial orientation.

Kid Bambili (Tanzania) –

Nasgalsen (Senegal) – Fun, experimental hip-hop with rolling energy and a danceable attitude.

Bennchoumy (Haiti) – Hard multilingual rap backed by unique beats and the expressiveness of soul.

Joh-well (France) – Steadily streaming, passionate, multilingual hip-hop with sweet beats.

Yanigga (France/Cameroon) – Truly lyrical rap backed by an ensemble of instruments and organic contexts.

Stoopid (NYC) –

Faso kombat (Burkina Faso) – Gritty reggae-hop meets New York beats and a vocally rooted, ancient African soul.

Alfaress (Morocco) – Hardcore Arabic rap with turntable beats and a soft inflection of funk.

Danny Silver (UK/Israel) –

Pete Shungu (Boston/Congo) – A multimedia, next-step journey through remixed jazz and funk, a poet's experimental, transcendental hip-hop.

Fame Nicklez (Zimbabwe/Canada) –

Dees Chan (France) – Forward-moving rap, techno savvy beats; heavy, serious, and implicitly cool.

Eli Efi (Brazil) – A core of Latin American soul, surrounded by smooth flows and hip-grinding beats.

Okai (Haiti/NYC) – Undeniable soul speaks to an organic and conscious hip-hop.
Mastering and Co- creation of the Beats