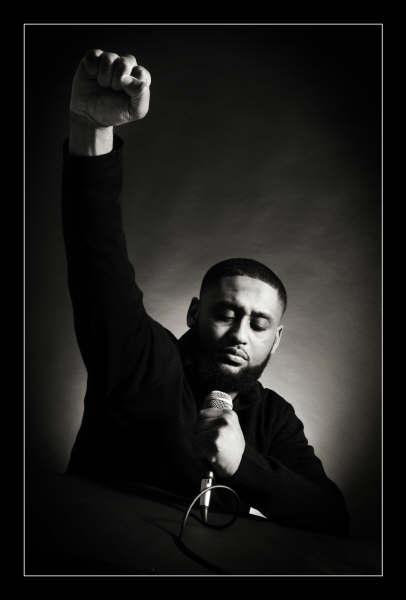 Mohammed YahYa (UK/Mozambique)
Live at Trinity Int'l Hip-Hop Festival 2009
(2009)
album
"Mohammed Yahya is a Mozambican born Rapper who was forced to leave his country during civil war. Having moved to Portugal, the young Mohammed yahya began to show an interest in music, partly due to his father's influence as a singer.
Being surrounded by poverty, Mohammed yahya used music and poetry to channel his thoughts, energy and emotion in a positive manner. Early influences were from African music such as Kizomba, Funana and Marabenta.
Later, having moved to London, Mohammed yahya become involved in various Hip Hop groups such as M.U.M.M.Y.A'S and Geneva Konvention. After Geneva Konvention spilt Mohammed yahya and Iron braydz formed Blind Alphabetz, to focus their musical attention on. The conscious and politically charged duo has been likened to Public Enemy among others and supported acts such as: Guru, Dead Prez and Saigon.
In late 2007 Mohammed Yahya released his first album "Luvolution" alongside Iron Braydz, featuring some of the most respected artists in UK, and U.S. In early 2008 Blind Alphabetz spilt up and Mohammed yahya decided to pursue his solo career as well as involve himself in artistic activism. He is one of the founders of Rebel Muzik Arts foundation, who put out a compilation cd in 2004, and a monthly Hip Hop, spoken word poetry night in London. Mohammed Yahya is highly involved in interfaith work and alongside Daniel Silverstein started the 1st ever Muslim/Jewish Hip Hop collective in U.K.
He is also the president of Speech for Peace, an organisation that aims to create a positive movement that will inspire all communities to work together towards constructive engagement between one another exemplifying understanding and compassion in the work for social justice and human dignity beyond the barriers of religion, ethnicity and nationality.
Mohammed Yahya has received a great deal of publicity due to his positive artistic activism and has been featured in BBC, Channel 5 news, Islam Channel, Peace TV, Channel U just to name a few TV stations as well as respected publications such as : New Nation newspaper, Hip Hop Connection, Platform Magazine, Emel. His music has been played across the world and he has been invited to perform in England, Scotland, Morocco, Mozambique, Norway and Sweden.
Mohammed Yahya impressively delivers soulful street poetry with hair raising honesty in both Portuguese and English allowing him to reach a wide audience across the world. "
Recorded by Daniel Cantor / Notable Productions