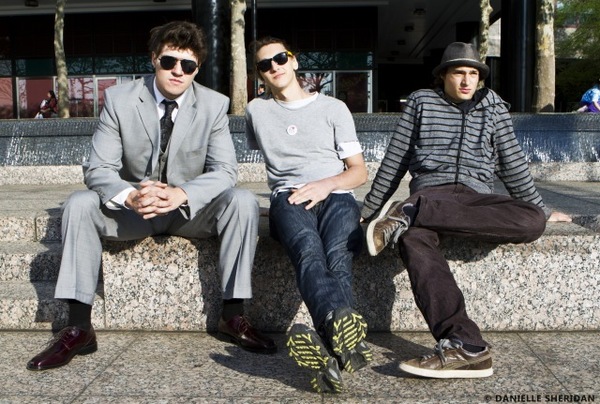 Moon Hooch
Live at Trinity Int'l Hip-Hop Festival 2012
(2012)
2012
live recording
"Whoever thought of a band with two saxophones and a drummer? That's the stupidest idea, right?" Moon Hooch saxophonist Wenzl McGowen asked the crowd at a recent gig. Well, Wenzl, James Muschler (drums) and Mike Wilbur (saxophone) never intended on forming a band together. The three guys graduated from The New School for Jazz and Contemporary Music in Manhattan in 2010. Wenzl and Mike shared mutual contempt, each one thinking the other was a cocky sax-o-phony. And while they were both correctly judged each other, they eventually learned tolerance when Wenzl moved in to an apartment with James, next door to Mike.

The three began busking in the subway and in the city's parks. At the same time, Wenzl was producing House music and writing House for saxophone. When the guys played this music in the subway, people immediately began dancing.

One subway passenger asked, "What's your band's name?"

Mike blurted, "Moon Juice."

A Google search revealed that there were already multiple bands called Moon Juice. With the help of a thesaurus, the name Moon Hooch was selected, and more importantly, the trio now realized that they were, in fact, a band.

Since solidifying as a band, Moon Hooch has quickly gained a reputation for inciting "subway raves" (they were banned from performing at the Bedford Ave stop off the L line in Brooklyn for "starting too many dance parties"), their strange instrumentation and explosive live show. Their frequent presence in New York City subways and parks has brought them notice and fans which has led to appearances as the house band on Australian TV show "Hamish and Andy's Gap Year," and a national tour with Mike Doughty (Doughty saw them on a train platform and immediately invited to tour as his supporting act). They are now at the midpoint of a six month residency at Brooklyn's Knitting Factory, having sold-out all shows to date.

The band has already begun to expand its sound beyond just two saxophones and drums. Wenzl inserts a cardboard tube into his saxophone to create a Dubstep style womp, and switches between a contrabass clarinet and electronic wind instrument. They also have begun experimenting with various vocalists, inviting both singers and rappers on stage with them at shows.

Recorded in just a single day, their debut record, "The Moon Hooch Album," gives the listener a taste of what's to come for these guys. They seamlessly blend House, Dubstep, Drum & Bass, and Jazz into style that is uniquely Moon Hooch: Cave Music.
Recorded by Dan Cantor / Notable Studios